For a full album of 49 images click: Facebook Packington Post
This is THE Packington Memorial Hall Venues event, where the whole village has the chance to be part of something REALLY SPECIAL using every part of our Hall – Kitchen, both venues, bar – just come along to Venue 175 and eat a top-level Packington Breakfast, AND / OR help by joining the team of volunteer villagers for just one hour.
Quality produce supplied by: Taylors Butcher of Ashby de la Zouch; and our own Daybreak Services of Packington
Not from Packington? We welcome you as honorary villagers while you enjoy a full Packington Breakfast. Just turn up! All proceeds to charity!
Full English Breakfast £7
Children's Portion £3.50
Sausages x 2
Bacon x 2
Black Pudding
Fried Egg
Tomato
Beans
Mushrooms
Toast, Butter, Marmalade,
Orange Juice
Tea or Coffee
Vegetarian Full Breakfast £7
Omelette
Tomato
Mushroom
Beans
Breakfast Bap £3.50
Sausage or Bacon
Orange Juice
Tea or Coffee
Join us? You can take orders, lay tables, make tea, make toast, cook, warm plates, serve meals, serve hot drinks, serve orange juice, clear plates, wipe tables and re-lay, use the commercial high-speed dishwasher, use the low-speed glass washer, smile at all the happy eaters – call Mike on 560430 to book your chance to star for an hour in this amazing event where we all get to say hello to other village residents, and where volunteering camaraderie can make a major boost to YOUR seratonin level!
Big Breakfast 2018 – Major Village Event
Saturday 3rd March 2018 – 9am to 1pm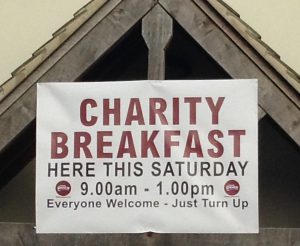 Come along to Venue 175 – the larger of the Packington Memorial Hall Venues – and enjoy the "Packington Breakfast".
Choice of all your favourite ingredients £ 7

Children's version, and filled baps, also available £ 3.50
This event offers opportunities to many willing volunteers. Amazing camaraderie is on offer, not to mention banter and joy. You can join the team by offering a one- or two-hour slot.

There are many jobs where you can take part in this village event for an hour or two:
cooking

making toast

serving tea

washing up

administration
– to mention just a few.
This year the proceeds will be split between:
Leicestershire & Rutland Air Ambulance, and

Harry's Fund.
Let me know please, I will be delighted to hear from you. Mike.coke@talktalk.net or 560430. Continue reading "Big Packington Charity Breakfast – Saturday 3rd March 2018"